In the process of sea bream processing, the following matters should be noted:
(1) The jellyfish processing site should be separated from fish and shrimp processing sites, and the tools used must not be mixed to prevent cross-contamination.
(2) Avoid direct sunlight and direct sunlight, prevent high temperature and rain, and prevent contamination of sundries.
(3) The top of the container stored in the three quails should be lightly pressed with clean stones so that the product is immersed in brine without exposure to the air and the top of the container is capped; the concentration of brine should be maintained at about Baume 22 .
(4) The dry goods must be packaged in a timely manner; in the case of packaging, the nylon bag should be lined with a wooden box, and be topped with 1% salt and 2% salt. Outside the box, the name, grade, net weight, gross weight and origin should be indicated.
(5) The dry goods should be stored in a cool, ventilated and dry warehouse after being packaged to prevent sunlight, rain and high temperature.
The preserved sea bream products can be stored for one year without deterioration. However, if during the processing of sea bream or during the storage of finished products, rot and deterioration are found, the following remedial measures shall be promptly taken:
(1) When the initial deterrence of the raw material is found to have started to rot, the product should be removed in time and the rot should be removed. However, when the product starts to black and has not yet rotted, the black portion does not have to be removed. Then put it in cleansing water of 0.5% concentration for several hours, after several consecutive washings, the odor can be eliminated.
(2) After the treatment of deterioration of the second or third-grade product or dried product, when the product is black or smelly, the entire old brine shall be immediately removed, and the deteriorated product shall be placed in a brine solution with a Baume degree of 20-22. In the dipping, the brine will completely submerge the product. Generally immersed for 1 to 2 days to remove odor. If the product is still black or has odor, it can be dip with 0.3% to 0.5% of alum liquid, change the liquid 1 or 2 times a day, generally after 2 days to remove the black; then use 12% ~ 16% salt and mash mixture (100:1.5 ratio) were compounded. If too much niobium is used to reduce the toughness of the finished product, or it is easily damaged or the skin becomes hard and the internal moisture cannot seep out, the finished product can be re-immersed in salt water and stirred. If necessary, it can be processed several times until it meets the quality requirements.
Ruoqiang Gray Jujube:
Gray jujube also call Ruoqiang date, the size is under 3.5cm, the dried jujube have a slight wrinkles, uniform size with natural flavor. The Gray Jujube sugar is very high, no sour taste, thin skin and fleshy, smaller seed, the flesh is tightness
Description of Gray Jujube:
Style: Dried
Type: Date
Product name: Ruoqiang Red Dates
Grade: grade one, grade two
Place of Origin: Xinjiang, China (Mainland)
Size: 28~30mm
Taste: Sweet
Drying Process: AD
Preservation Process: NO
Cultivation Type: Open Air
Package : Bulk, Gift Packing, Vacuum Pack, or as per customer quest
Max. Moisture (%):25% Max
Shelf Life: 18 Months
Storage method: cool and dry place
Nutrient ingredients: Rich in Protein, Calcium, Vitamin C, Iron demanded by human body.
Character: Superior quality, equal size, dark red, tastes juicy and sweet, thick fresh, small kernel.
Growth environment: Plenty of sunshine & pure mountain water, no air pollution
Functions:
Nourish blood for women;
Maintain beauty and keep young;
Anti-cancer;
Improving muscular strength and weight;
Improve the body's immune function;
Prevent liver diseases;
Soothe the nerves;
Anti-allergy
Uses: used as fruit, snack, Chinese traditional medicine, make soup, breads, cake, candy, compote and jam.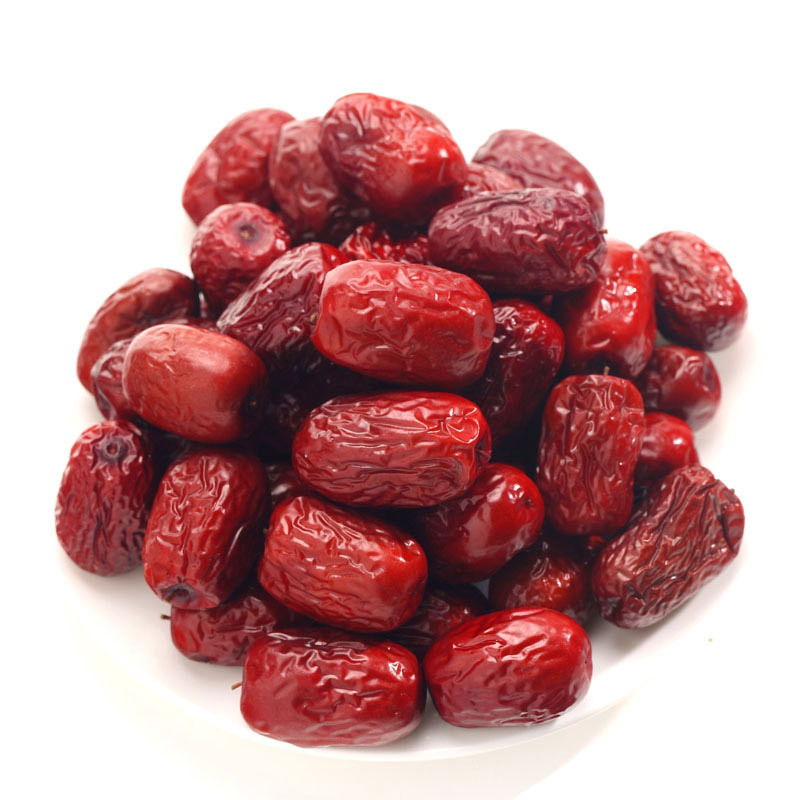 FAQ:
Q: How about payment terms?
A: 30% TT deposit+70% TT before shipment, 30% TT deposit+70% TT balance against scanned Copy B/L, Flexible payment can be negotiated.
Q: Production and deliver
A: After deposit, order enter into 1st stage( production, packaging, factory inspect, etc), then 2nd stage is CIQ inspection and written CIQ Certificate lead time one week(7 days), 3rd stage we arrange to arrange cargo shipment to departure port. Vessel lead time as per destination port in different countries( Such as North America line, South America Line, EMP, Asia, Australia, etc )
Gray Jujube
Gray Jujube,Natural Gray Jujube,Sweet Gray Jujube,Dried Gray Jujube
Ningxia Baishi Hengxing Food Technology Co., Ltd. , https://www.chinagojihome.com