This processing technology is a series of product processing technology developed and researched on the basis of the "black fungus block processing technology" and "shanzhen eight treasure processing technology" organized and appraised by the former Ministry of Forestry in 1992 and 1996, and its process technology ranks first in the world. At the same level, the product is the first of its kind at home and abroad. The processing technology has won the "92 Heilongjiang National Science and Technology Achievement Exhibition Fair Gold Award". In 1995, it won the "Second Prize for Scientific and Technological Progress in Heilongjiang Province." In the same year, it was listed by the National Science and Technology Commission as "95 National Spark Program Promotion Project, 96 Gold Award of the Ministry of Forestry's Famous and Excellent Products", and in 1998 it was awarded "First Prize of Heilongjiang Province Forest Industry System Technology Promotion" and in 1999 "Heilongjiang Province Science and Technology Promotion III. Etc." In 1997, it was listed as one of the 100 key scientific and technological achievements by the Ministry of Forestry. In 2003, it was listed as an agricultural fund conversion project by the State Science and Technology Commission. After more than ten years of in-depth research and production practices, its process technology has become more mature and has been able to process dozens of varieties of products. Technical features: The use of special equipment, the use of physical methods will be high-quality dry edible mushrooms, wild vegetables, dehydrated vegetables, etc., without adding any additives, will be pressed into a new type of shape and shape of the block product. The application of microwave fast drying sterilization, no loss of nutrients, product shelf life can reach three years. High degree of mechanization, process technology in line with the requirements of green food production practices, products can meet AA green product standards. Product features: With regular shape, smooth surface, 4-8 times smaller volume, rehydration performance, the same state, clean without false, long-term storage is not mildew, no insects, beautiful packaging, can enter the supermarket, small size, Thanks to its convenient transport and storage facilities, it is well received and favored by people. It is a good gift for friends and relatives. Construction conditions: an annual output of 60 tons of compressed block products, a set of processing equipment, plant 350m2, power 25KW, equipment and tools investment 187,000 yuan, 26 personnel. Major equipment: Special equipment compression molding machine, drum rejuvenation, secondary vibration and dust screening machines are all new products developed by our company. Supporting equipment, microwave drying sterilization machine, vegetable cutting machine, heat shrink packaging machine, moisture fast measuring instrument for domestic. Non-standard equipment, picking stations, drying racks and tools are self-made. Economic benefits: With the production of black fungus blocks as the standard, the annual output is 60 tons, the output value is 7.2 million yuan, and the net profit is 900,000 yuan. Including the civil works, the investment recovery period is 18 months.
Ya Pear is packed with health benefiting nutrients such as dietary fiber,anti-oxidants,minerals and vitamins, which are necessary for optimum health.Total measured antioxidant strength in pear. Pear are good source of dietary fiber and very low calorie fruit,also are a mild,sweet fruit with a fibrous center.Pear are rich in importantioxidants,flavonoids and dietary fiber and pack all of those nutrients in a fat-free,cholesterol-free,100-calorie package. That`s very good for our health. If you need it,please feel free to contact me as below.
| | |
| --- | --- |
| Type: Ya pear | Style: Fresh |
| Size: 36#/40#/44#/48#/72#/80#/96# | Grade: Class A |
| Package: 4kg carton to 18kg carton | Place of origin: Hebei Province |
| Taste: Sweet,soft,crisp | Color: Light yellow |
| Fresh season: August to September | Supplying time: August to May next year |
| Payment term: LC/TT/Flexible | Crop: 2018 year |
If you need about it,please feel free to contact me,which is contact information as below.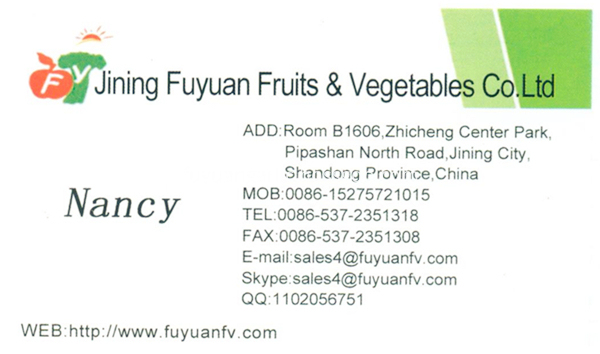 Yellow Ya Pear,Big Ya Pear,Golden Pear,Sweet Juicy Ya Pear
Jining Fuyuan Fruits And Vegetables Co., Ltd. , http://www.fuyuanfv.com